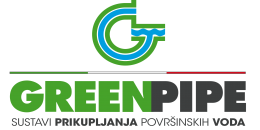 The leading edge of surface water collecting systems
GREENPIPE Srl was established in 1997 on the basis of the business experience and skills acquired by the Ponti brothers in the field of drainage pipes and systems.
GREENPIPE Srl is located in Correggio, in the province of Reggio Emilia, and thanks to its central geographic position, operates throughout Italy.
GREENPIPE Srl has an extensive distribution network which avails itself of a fast and efficient logistics service as to be able to easily reach all the Italian regions, islands included; this means being able to supply a tight network of partners throughout the country: retailers and major building firms.
Ever since it was first established, the primary aim of GREENPIPE Srl has been to offer the Italian market top-quality products for the flow of drinking water, irrigation water and wastewater. Starting in 2000, the Company began diversifying its activities in the water treatment field, including, alongside pipes, also drainage channels with gratings.
In just a short time, the company has been able to develop a broad range of products suitable for all types of use, from residential areas right up to more demanding applications inside ports and airports.
GREENPIPE Srl is currently among Italian leaders in the surface water harvesting sector.
GREENPIPE Srl is a benchmark company for Local Authorities, Port and Airport Authorities, Industrial Complexes, Engineering Firms, Building material companies and Retailers involved in drainage, and rainwater treatment and control.
The support services provided to Authorities, designers and companies are entrusted to technical-sales staff with over twenty years of work experience acquired in the specific industry of pipes for aqueducts and sewers, production of concrete articles and the water harvesting and management world.
THE COMPANY MISSION
"to capture rain"
We are committed to fi nding the best solution for everyone. If you have a drainage problem, GREENPIPE Srl can solve it. Leading the way in innovation.
THE VISION
GREENPIPE Srl's goal is to assert itself, over the years, as a company recognized by its customers and by industry operators as a market reference for the quality of the products it is able to offer, as well as for the performance of its organization and the high operating standards of its staff.
The goal is to foster acquired customer loyalty and extend the market areas where it already operates focusing on constant area expansion including onto export markets and extending its product range.
THE VALUES
"costumer care"
ForGREENPIPE Srl this translates into the ability to listen, adapt and anticipate customer requirements, refl ecting its commitment to build
solid and long-lasting relations.
Upgrading the Quality of products and services is a priority reflected in a strong desire to obtain the most updated certifications and the most high-performing solutions in compliance with applicable standards.
Research and Development of Innovative Technologies are combined to ensure the ongoing improvement of environmental solutions, for both the present and the future.
Information, assistance, technical and commercial collaboration, frequent meetings with the most important professionals, such as building distributors, design offices and construction companies.
This is all GREENPIPE
Dodatne informacije možete pronaći na web stranici partnera Greenpipe
Naši partneri - Sve